Mark your calendars for the most enchanting dates of the year: November 6th to 10th and December 12th to 17th. It's time to step into a Winter Wonderland and create treasured memories that will last a lifetime. But wait, there's more – our Mini Christmas Sessions are also available on any date after 6 PM, so you can capture the festive charm in the cozy glow of evening lights.
At our home studio, we're all about inclusivity, and that's why we're excited to welcome your furry friends! Yes, we're pet-friendly, but there's a special twist – pets are most welcome after 6 PM. This evening slot is dedicated to capturing the unique joy of having your beloved pets join in the holiday merriment. Whether they're wagging tails, purring cats, or feathered friends, we're here to create heartwarming memories that include every member of your family.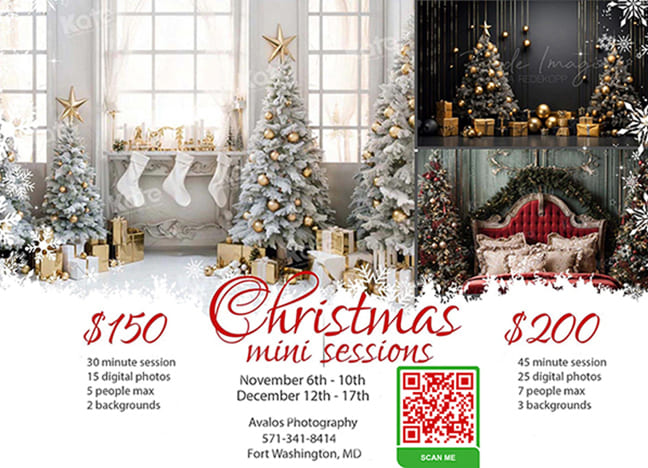 During your Mini Christmas Session, you can expect a curated experience, complete with festive backdrops, charming props, and personalized touches that reflect your unique style. Whether you're dreaming of classic holiday scenes or something more modern and trendy, we've got it all covered.
Perfect for families, couples, children, and pets, we believe that Christmas is a time for everyone to come together and share love, and our sessions are a reflection of that belief.
Your stunning holiday portraits will be ready in no time, just in time for you to spread the Christmas cheer with friends and family, or to use them for your personalized holiday cards and gifts.
Don't let these magical dates slip through your fingers. Secure your spot now, and let's make your Christmas moments last forever.
Book your Mini Christmas Session today and let the holiday spirit shine through every frame. Trust us, you'll cherish these memories for years to come. Join us in celebrating the warmth, love, and joy of the season.
Let's make the magic happen together!"
Address: 1610 Lee Rd, Fort Washington, MD, 20744